I am taking for granted that you know about the Broken Guitars video and for those who doesn't, read here and watch here.
I was reading yesterday about "United Breaks Guitar Part 2" and I got interested in United Airlines reaction to the whole chain of event.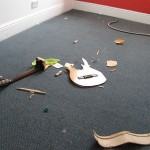 My first reaction when I heard about the video lat month was that they should have (assuming it wasn't fixed before the videos) offered him 2 open tickets to any destination valid for 1 year. And a replacement guitar. Why ? Well simply because an open ticket is the kind of stuff that most of the population dream about and public opinion would have gone : "Wow, that's cool ! They did a mistake but they've fixed it properly !"Just a replacement wouldn't cut it at this point obviously.
Chances are he might have had accepted while some critics would have scream he's a social media sellout. In the end the story would have died down but would be refered as "Customer Complaint Through Social Media 101″ course. The video would have lived forever and be the standout element of the story.
Well, United Airlines offered a replacement guitar to Dave Carroll which understandably he did not want and gave to charity. Too little, too late … With all the fame he got from his first video, it would take much more than a replacement guitar to close the story. To make matter worse, United added that …
"'While we mutually agree this should have been fixed much sooner, Dave's excellent video provides us with something we can use for training purposes to ensure that all customers receive better service for us,' spokeswoman Robin Urbanski told the (Chicago Sun Times)."
Really ?
So today when I read about the video sequel, I thought that there might have been a better way for United Airlines to do damage control (in fact there's many…).
My idea ? Fight fire with Fire. Answer with another viral video. United should have hired a hip young music video producer to shoot a cool and funny 'We are sorry, we make a mistake and will try to avoid suck miss-up in the future' excuse video with a little tongue-in-cheek humour for good measure. A couple United Execs and VPs singing bad choirs or trying the guitar would have done the trick.
Such a video, if well done and there is a high number of people who could have done something amazing, could have become nearly as popular as the original one. Great PR coup. And most of all, this would have greatly close the gap between the customer (Dave Carroll) and the brand (United Airlines).
Customer way of expressing complaints is evolving, so should Brand answers and tactics to keep customer happy. Obviously, it should be fixed way before, but in reality, we all know many more episodes of that kind will happen in the next months and I will be curious to see which brand will be the first to take it to the next level.
Now producing a video to cover up the Domino Incident would have had been way more challenging
They probably took the right decision by going "corpo" with their excuses…